Restaurant
AMBIANCE – THE RESTAURANT
Ambiance, as the name suggests, is the perfect venue for a great meal. It brings together tradition and modernity in an intimate and welcoming restaurant at one of the
best hotel in Chandigarh
. The creatively designed menu offers various cuisines in Indian and international flavors. Exuding harmony and comfort, the atmosphere at Ambiance is worth cherishing. Located on the ground floor of
Hotel Orbit
, the restaurant is ideal for personal as well as professional dinners in a distinguished setting at a brand new
hotel in Chandigarh
.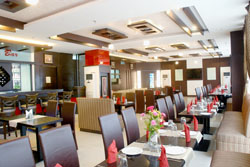 Restaurant Timing:
Breakfast: 7:30 am to 11:00 am
Lunch: 1:30 pm to 4:00 pm
Dinner: 8:00 pm to11:00 pm
SPORTS BAR
Complementing the Ambiance restaurant, Sports Bar is THE place to relax and rejuvenate. It's a perfect corner to entertain business colleagues or relax after a hectic day. As you sip on one of the many interesting cocktails and mocktails, you are sure to appreciate our selection of international beverages. Long drinks, mocktails, cocktails, delicious snack menu – all make up for enchanting moments.